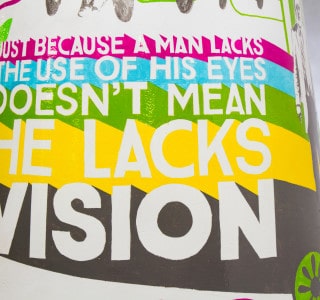 See How Youth With Vision Impairments Embrace Challenges to Become Independent & Successful
Far too often, youth who are blind or visually impaired miss out on receiving the experience and encouragement to succeed that their sighted peers might take for granted. Their parents and teachers are often so focused on helping them learn how to be safe, but they often lack the resources and knowledge to help them be independent. Fortunately, our Youth Transition Program is here to fill in the gaps.
The Chicago Lighthouse's Youth Transition Program helps young adults (ages 15-24) who are blind or visually impaired realize their full potential. The youth who come to The Lighthouse are bright and motivated, but have not yet learned key life skills. Often times, they have never cooked their own food, taken the train or bus, or held a job or internship. Our Program helps students gain the skills and experience they need to become self-sufficient and pursue their aspirations. This Program is inclusive, and no one is turned away due to inability to pay.
Our Youth Transition Program consists of three facets: Summer in the City, First Jobs, and Saturday Seminars. Summer in the City is a five day residential program designed to help youth who are blind or visually impaired learn and practice basic life skills, socialize with other youth, and have fun, memorable experiences. First Jobs is an eight-week program that helps young adults who are blind or visually impaired develop the necessary skills to acquire employment, and pairs each participant with a paid externship. Saturday Seminars are monthly workshops which cover a variety of topics relevant to youth with vision loss, such as guide dogs, self-defense, and financial aid for college.
Through each of these programs, youth gain the skills and confidence necessary to become successful and independent adults. Their newfound independence also provides a greater sense of confidence and security to their families. Meet some of our youth whose lives have been profoundly impacted by these programs.
---
Reaching new horizons: NINA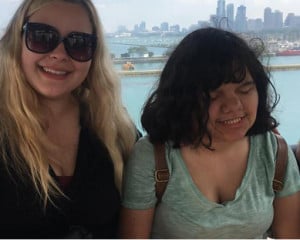 When Nina first arrived to The Lighthouse at sixteen years old, she had never walked further than a block without assistance. She was a shy, quiet girl who had little experience doing things independently, and lacked confidence in her own abilities. Fortunately, through our five-day Summer in the City residential Program, she received the support and resources necessary to overcome her fears.
Soon after she started the program, our Orientation and Mobility instructors saw her lack of confidence and created a plan to help her. With their encouragement and support, Nina began to explore the UIC dormitory where she was staying with her fellow program participants. As her confidence in her ability to travel solo increased, she began to explore the campus. She was thrilled by the feeling of freedom, and began to see just how much she could do on her own. This inspired her to try even more new experiences throughout the week. From cooking alongside a gourmet chef to rock climbing, Nina tried every experience our program has to offer.
On the Program's final day, the students held a talent show, which was attended by Chicago Lighthouse clients and staff and also some of the students' families. When it was her turn to perform, Nina unveiled her new confident self, proudly taking to the stage, lifting her head, and singing with a beautiful rich voice. Since then, Nina has continued participating in the Youth Transitions Program activities, such as our Saturday Seminars. In February, she even went on the Youth Transition ski trip. It was inspiring to see this young woman, who last year was afraid to walk alone, confidently skiing with the help of a sighted guide.
---
Navigating a larger world: JACOB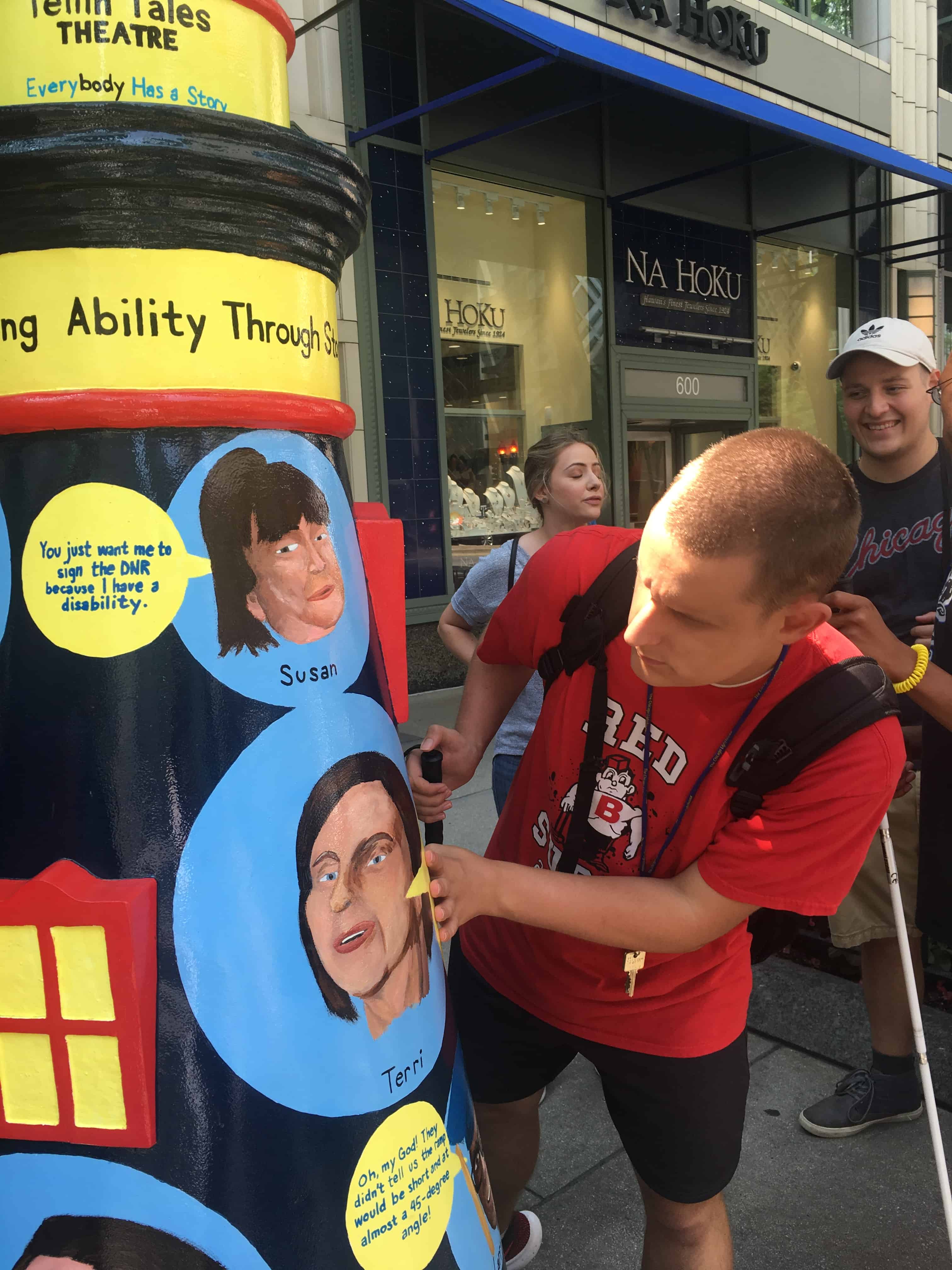 Jacob traveled to The Lighthouse from rural central Illinois, where his family resides. In addition to Jacob, his parents have another son with a physical disability. Their small town has few activities accessible for both of their sons with disabilities, so the family spends much of their time inside at home. As a result, Jacob, at sixteen years old, had never crossed a street or handled money on his own. He also had never met peers living with vision loss like himself. That all changed once he started our Summer in the City Program.
Many of our Program's activities, like catching a city bus, were completely foreign to Jacob. Program counselors helped him overcome his apprehensions by introducing him to assistive mobile technology to help him navigate. Choosing and navigating to his destination for the first time was extremely empowering. He soon began to seek out and teach himself additional navigation apps on his phone. Jacob shared what he learned with his Program peers and quickly became a leader among the group. Throughout the week he became close friends with the other youth in the Program and was always ready and willing to help those who had a tougher time finding their way around. When Jacob returned home, he was confident to use the new skills he learned and help his family venture out more together.
---
Blossoming to her potential: RUPA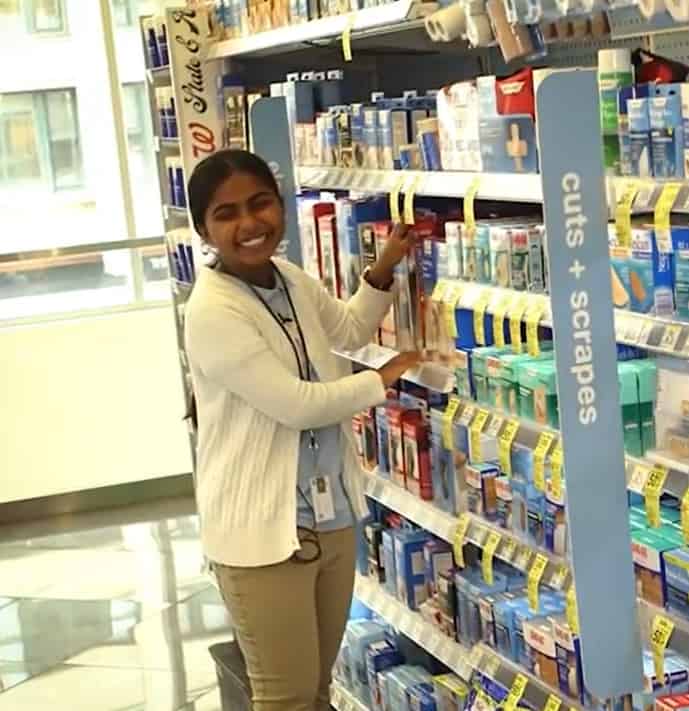 Rupa participated in our First Jobs Program this summer, and worked as an extern at a Walgreens store in downtown Chicago. During her externship she worked as a greeter and a stocker. Rupa is completely blind, so in order to perform her job as a stocker she quickly memorized the layout of the entire two-story store. She surprised herself by how fast she learned the store layout, and impressed her supervisors when she was able to answer customer questions and locate items they could not. This helped instill in Rupa a greater sense of confidence in her abilities. Working in a multi-story store also helped to increase her mobility, as she mastered using the store's escalator and independently commuting one hour from her home to the store via public transportation.
Through her work experience, Rupa's parents saw her blossom over the summer. "I saw potential in her that I hadn't seen before. I was able to see her outside of just being my daughter. It made me see her as a whole person, a capable person who's happy to be who she is. It's very exciting," said her mother. Now a high school Senior, Rupa is actively preparing for her next steps. She and her mother recently attended our "Money Matters" Saturday Seminar where they gained insight on how to financially support Rupa's college education as an aspiring music major.
See how Rupa blossomed through the First Jobs Program
---
Give the gift of independence for youth with vision impairments to lead successful lives. Donate today and double your impact with our $10,000 matching grant challenge.