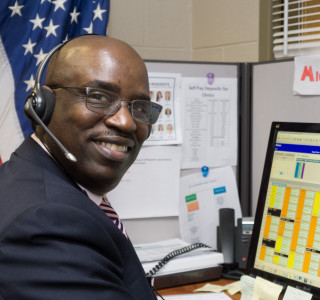 Boeing Grant Helps Veterans through Lighthouse Illinois Joining Forces Customer Care Center
Boeing Grant Helps Chicago Lighthouse Continue Serving Veterans through Illinois Joining Forces Customer Care Center
Citing its success in connecting Illinois Veterans and their families with vital services in employment, health care, housing and other areas, Boeing is providing a $60,000 grant to The Chicago Lighthouse's Illinois Joining Forces (IJF) Customer Care Center.
First established in 2016, the Center operates a toll-free 1-800 number for Veterans and families, which connects them with services in Illinois.  It is staffed by seasoned military Veterans who have first-hand experience in navigating the many resources that are available to Vets, and who in turn, share that information with Illinois Veterans and their families. Then they follow up to ensure that the assistance was received.
Since receiving funding in September, marketing efforts for the Center have increased and as a result, the number of calls has dramatically risen from 50-350 per month to 450-650, and 71 percent of requests have been successfully closed.  Funds from this grant will also assist in the purchase of a new Care Coordination monitor, which allows agents to answer queued calls more quickly.
"We extend our deepest appreciation to Boeing for providing this generous grant and for the vote of confidence they have given to The Chicago Lighthouse," said Lighthouse President and CEO Dr. Janet Szlyk.  Dr. Szlyk noted that serving Veterans is an essential part of The Lighthouse's mission and that the IJF Customer Care Center is one of our most innovative programs putting military men and women and their families in touch with life-changing services.
The Center is open from 8 a.m. to 5 p.m. central time weekdays. The number is 1-877-236-7702.  For online information, visit illinoisjoiningforces.org.