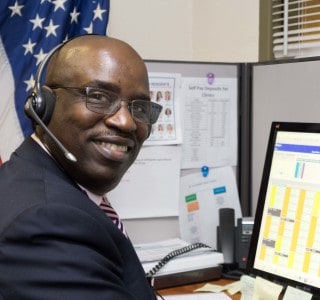 Boeing Awards $60,000 Grant to The Chicago Lighthouse
Nonprofit Partner Contribution Supports Jobs for Veterans
CHICAGO, November 11, 2019 – The Chicago Lighthouse, a 113-year-old nonprofit helping people who are blind, visually impaired, disabled, and Veterans in the Chicago area, has received a $60,000 grant from Boeing (NYSE: BA). The grant will support the organization's Illinois Joining Forces (IJF) Customer Care Center.
Established in 2016, the Center operates a toll-free phone number for Veterans and families, connecting them with services in Illinois. The Center is staffed by seasoned military Veterans who can provide firsthand experience in navigating the resources available for Veterans and their families.
"Boeing has been an invaluable partner for our IJF Customer Care Center since its inception," said Lighthouse President and CEO Dr. Janet Szlyk. "We truly appreciate the company's continued dedication to this innovate program that puts military men and women and their families in touch with the life-changing services they deserve."
The IJF Customer Care Center handles about 445 calls a month from Veterans seeking assistance. The Center is open from 8 a.m. to 5 p.m. central time weekdays. The number is 1-877-236-7702.  For online information, visit illinoisjoiningforces.org.