Haiku Milieu Release Concert at FitzGerald's Nightclub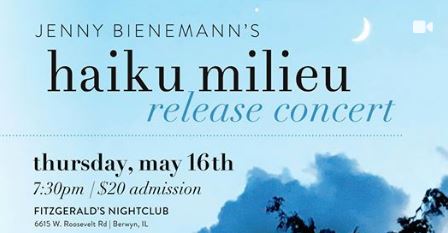 May 16, 2019 | 7:30 p.m.
Fitzgerald's Nightclub
6615 W. Roosevelt Road | Berwyn, IL
Award-winning artist Jenny Bienemann debuts her first-ever project built around photographs and haiku: "Haiku Milieu: Photographs and Haiku for you, Wherever You Are" in book, audiobook, e-book and soundtrack formats. Inspired by dear friends experiencing vision loss, Bienemann created the audiobook to improve their access to the visual arts. The audiobook features Bienemann reading her haiku, describing her photo, and then reading her haiku again.
Tickets: $20 – The author is generously donating a portion of each ticket sale to The Chicago Lighthouse.
Tickets are available at Fitzgerald's Nightclub and the venue.
The Release Concert will feature the Jenny & Friends band, and original new songs, stories and poems from outstanding singers and songwriters, including: Robin Bienemann, Naomi Ashley, Cayne Collier, Steve Dawson, Joe Dempsey, Amy Dixon-Kolar, Gerald Dowd, Rachel Drew, Sue Fink, Joe Fournier and David Walker, Kate FitzGerald, Jeanne Kuhns, Ron Lazzeretti, Deborah Maris Lader, Last Acre, MMCM, Jimm McIver, Bruce Roper, Jodi Walker, Terry White, and more!
For more information visit jennybienemann.com/