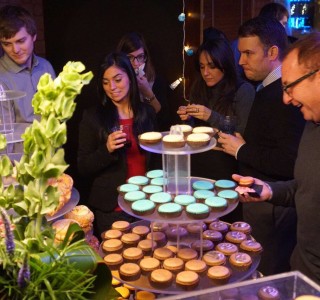 11th Annual Sweets for Sight
Feb. 16, 2016
The Chicago Lighthouse's Junior Board hosted their 11th annual signature event, Sweets for Sight, on Thursday, Feb. 4th at DeLux Bar & Grill. More than 200 guests dined on complimentary hors d'oeuvres, cocktails and a multitude of fabulous sweets. The event also offered guests a silent auction, raffle, wine grab and photo booth.
An impressive display of macaroons, cupcakes, donuts, cookies, candies and other sweets adorned the sweets table. Junior Board member Will Howard, Jr. served as DJ at the entertainment table, which was sponsored by Power Paving. Gen Furla, owner of DeLux Bar & Grill and long-time Junior Board member, hosted the event and provided complimentary food and beverages for the guests, and Financial Strategy Network, LLC also supported the event with a generous sponsorship. State's Attorney Anita Alvarez made a surprise appearance, praising both the Jr. Board and The Lighthouse for the wonderful work they do.
Junior Board co-chairs Megan Goldish and Holly Brown were thrilled with the large turnout and the final amount raised by the event – almost $15,000. These funds will be used to support The Chicago Lighthouse Children's Programs. To learn more about The Chicago Lighthouse or The Lighthouse's Junior Board, contact Sarah Marks, Development Associate at (312) 447-3256.
Many thanks to our generous sponsors, donors, supporters and The Chicago Lighthouse Junior Board for their time and efforts in making Sweets for Sight 2016 a huge success!
Click here to view photos from the event.